Cette page est clairement non exhaustive tant il y a eu de DVDs et de rééditions diverses qui sont sorties… Sans parler du coffret "Movies".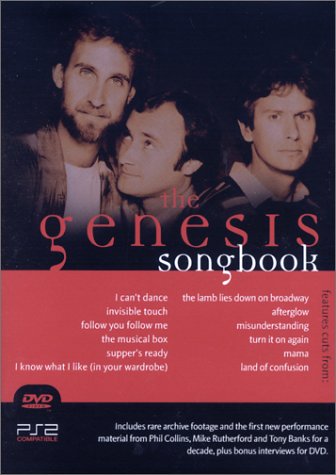 Genesis - Songbook - 2001
Un excellent documentaire, bien qu'un peu court. Terriblement émouvant sur la fin. Tout fan se doit de posséder ce DVD.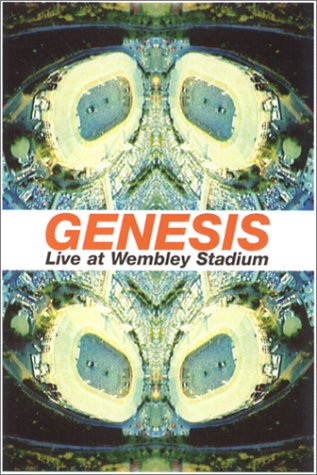 Genesis - Live At The Wembley Stadium - 2003
Mama
Abacab
Domino
That's All
Brazilian
Land Of Confusion
Tonight, Tonight, Tonight
Throwing It All Away
Home By The Sea
Invisible Touch
Drum Duet
Los Endos
Turn It On Again
De l'avis de tous bien supérieur à The Way We Walk, je me garde le droit de penser le contraire. L'image est notamment moins nette il me semble. Le concert n'en reste pas moins fabuleux avec des points d'orgues comme Tonight Tonight Tonight, Los Endos ou la toute fin de Turn It On Again avec une image de la foule de Wembley en délire totalement hallucinante.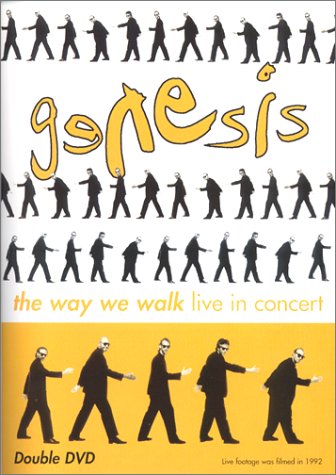 Genesis - The Way We Walk - 2002
Land of Confusion
No Son Of Mine
Driving The Last Spike
Old Medley
Fading Lights
Jesus He Knows Me
Dreaming While You Sleep
Home By The Sea
Hold On My Heart
Domino
The Drum Thing
I Can't Dance
Tonight, Tonight, Tonight
Invisible Touch
Turn It On Again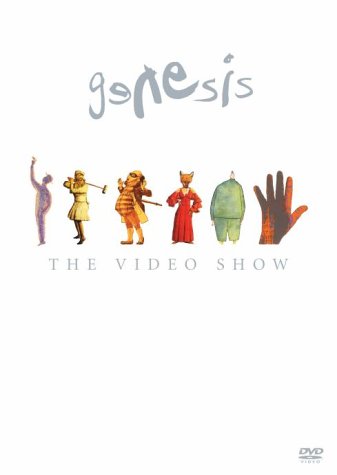 Genesis - Video Show - 2004
No Son Of Mine
I Can't Dance
Hold On My Heart
Jesus He Knows Me
Tell Me Why?
Invisible Touch
Throwing It All Away
Land Of Confusion
Tonight Tonight Tonight
Anything She Does
In Too Deep
That's All
Mama
Illegal Allien
Home By The Sea/Second Home By The Sea
Paperlate
Abacab
Keep It Dark
No Reply
Man On The Corner
Turn It On Again
Duchess
Misunderstanding
Follow You Follow Me
Many Too Many
A Trick Of The Tail
Ripples
Robbery Assault And Battery
Congo
Shipwrecked
Not About Us
Carpet Crawlers 1999
L'intégrale des clips de Genesis. Indispensable une fois de plus pour tout fan qui se respecte. Les mixages des morceaux en 5.1 sont sublimes et justifient à eux seul l'achat, même pour ceux qui ne sont pas fans de clips. Home By The Sea ou Ripples en 5.1, c'est quelque chose d'assez indescriptible… Quant aux clips eux mêmes : je ne suis pas fan de cet exercice. Pourtant, je dois reconnaître un certain talent à Genesis pour leurs clips. Du moins à partir de Invisible Touch. Ceux de We Can't Dance tutoyant souvent le sublime. Ceux de Calling All Stations, sont dans un tout autre style également très réussis. Ceux précédent Invisible Touch sont plus ennuyeux car se résumant très souvent à un simple playback… dommage. Mais il s'agit d'une intégrale et pas d'un best of. Le seul clip non présent étant I Know What I Like qui n'a jamais été vraiment un clip. Le seul morceau ou l'on entend Peter est donc Carpet Crawler 99, dans une version mutilée puisque le couplet chanté par Phil est purement et simplement absent. Allez, un petit palmarès perso : la palme du clip le mieux réalisé pour Congo, de l'humour pour Jesus He Know Me, de l'ennui pour Hold On My Heart et du foutage de gueule pour In Too Deep avec Mike et Tony qui jouent des instruments acoustiques là où on entend de l'électrique tout le long !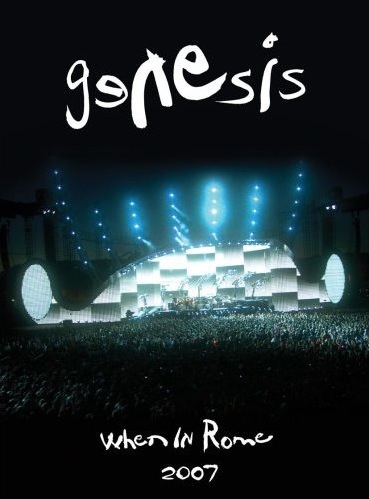 Genesis - When In Rome - 2008
Dukes Intro (Behind The Lines / Duke's End)
Turn It On Again
No Son Of Mine
Land Of Confusion
In The Cage (+ Cinema Show / Duke's Travel)
Afterglow
Hold On My Heart
Home By The Sea
Follow You Follow Me
Firth Of Fifth
I Know What I Like (In Your Wardrobe)
Mama
Ripples
Throwing It All Away
Domino
Conversation with 2 stools
Los Endos
Tonight Tonight Tonight
Invisible Touch
I Can't Dance
The Carpet Crawlers
—
Come Rain Or Shine (Documentaire)
Voilà. Ce qui est bien avec le temps qui passe c'est que ça nous permet de nous contredire sans que ça pose trop de problème. J'avais écrit dans la chronique du DVD FFFT de Phil que c'était le meilleur DVD de l'univers Genesis. Aujourd'hui ce n'est plus vrai. Puisque c'est "When in Rome" qui prend cette couronne…

J'étais à Rome pour le concert et j'ai vu 4 dates de la tournée. Rome était sans conteste la plus impressionnante. 500.000 personnes déchaînées et chantant à tue-tête dans le Cirque Maxime, c'est quelque chose d'assez inoubliable. Et ce DVD rend parfaitement cela. Les images sur le public sont à couper le souffle tellement elles sont impressionnantes… La réalité l'était. Les images sont fidèles. La réalisation impeccable et le son parfait.

Genesis fut parfait ce soir-là. Le DVD est là aussi fidèle à la réalité. Mention spéciale à Phil, qui n'arrête pas une seconde entre la batterie et son micro… Égal à lui-même, mais toujours aussi bluffant ! La quintessence du showman…

Le choix des morceaux joués balaye toute la carrière du groupe et est très représentatif de ce qu'est Genesis, de ses deux facettes. La scène est splendide. Les jeux de lumière incroyables, et ce dès le début du concert (le fait qu'ils aient attendu la nuit pour commencer, contrairement aux autres dates de la tournée, joue beaucoup).

Bref, ce DVD, avec ce groupe, cette musique, cette mise en scène, ce lieu et ce public déchaîné a tous les ingrédients pour devenir mythique. Il le sera. Il est juste trop jeune au moment où j'écris (27 mai 2008) pour pouvoir avoir ce titre.

Sans oublier les innombrables bonus, tous plus passionnants les uns que les autres pour les fans et aux documentaires qui nous retrace la genèse de la tournée. Un vrai bonheur, plein d'anecdotes, d'humour, d'émotions…

Si c'est le chant du cygne de Genesis alors c'est le plus beau chant qu'on pouvait espérer recevoir en cadeau.
Mike and the Mechanics - Live at Shepherds Bush - 2005
Falling
Now That You've Gone
Get Up
If I Were You
Another Cup Of Coffee
Beggar On A Beach Of Gold
Perfect Child
Whenever i Stop
All The Light I Need
One Left Standing
Silent Running
The Living Years
Over My Shoulder
Word Of Mouth
Ceux qui connaissent bien ce site et le forum savent que je suis loin d'être fan de Mister Carack et des dernières fournées de MnM's… Notamment l'ignoble Rewired. C'est donc à reculons que je suis penché sur ce DVD, craignant le pire… Verdict : hé ben non. J'ai passé un très bon moment. Même avec les chansons de Rewired qui sont bien passées. Bon, clairement c'est un peu mou du genou et il ne se passe pas grand chose sur scène, mais musicalement c'est très agréable. Mike nous gratifie d'un solo très moche cela dit, mais ça fait plaisir de retrouver certains morceaux. L'image et le son sont impeccables, mais le concert est très court. 1h15 seulement. En bonus des clips et des interviews intéressantes. Carrack en deviendrait presque sympathique à mes yeux. Paul Young n'est pas oublié avec un bel hommage avant Beggar On A Beach Of Gold. J'ai eu l'impression que Carrack la chantait moins bien que Young, mais c'est peut être tout simplement le manque d'habitude. Enfin bref : une belle surprise, une belle choriste. J'aurais juste aimé un concert un peu plus "rock", un peu plus long et avec un peu plus de "All I Need Is A Miracle" dedans !!!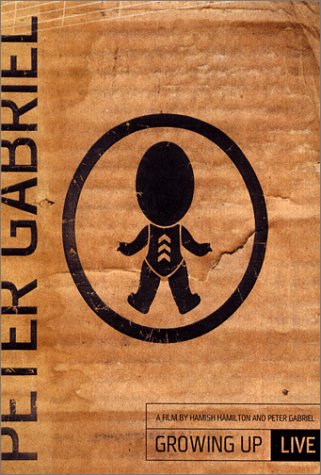 Peter Gabriel - Growing Up Live - 2003
Here Comes the Flood
Darkness
Red Rain
Secret World
Sky Blue
Downside Up
The Barry Williams Show
More Than This
Mercy Street
Digging in the Dirt
Growing Up
Animal Nation
Solsbury Hill
Sledgehammer
Signal to Noise
In Your Eyes
Father Son
Quel changement après avoir vu Secret World Live. Ce nouveau DVD donne tout simplement envie d'utiliser le précédent pour caler une vieille armoire bancale. Le son (bien que refait également), l'image, la prestation… Tout est parfait. Certains reprochent au film de trop souvent montrer l'équipe technique de Peter, mais personnellement cela ne me dérange absolument pas. La set list est géniale, avec un inédit, pas encore sorti officiellement lors de la tournée : Animal Nation. Beaucoup de grands moments dans ce concert, impossible de tous les citer, mais, par exemple, visuellement parlant, le Zorb de Growing Up ou la mise en scène de Downside-Up sont impressionnantes.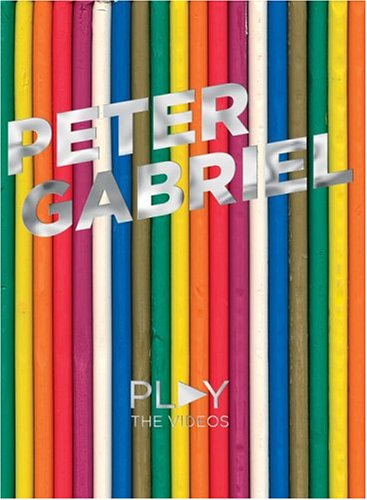 Peter Gabriel - Play The Video - 2004
Father, Son
Sledgehammer
Blood Of Eden
Games Without Frontiers
I Don't Remember
Big Time
Lovetown
Red Rain
In Your Eyes
Don't Give Up
The Barry Williams Show
Washing Of The Water
Biko
Kiss That Frog
Mercy Street
Growing Up
Shaking The Tree
Shock the Monkey
Steam
The Drop
Zaar
Solsbury Hill
Digging In The dirt
Vraiment, pas de chance pour ce DVD, parce qu'il est sorti en même temps que celui du First Final Farewell Tour de Phil. Et vraiment impossible de rivaliser à coté. Cela dit, ce DVD est très bon. Personnellement, je ne suis pas un super fan des clips, l'intérêt principal est donc pour moi d'entendre le remix en 5.1 des chansons, et là, je dois dire que le travail est impressionnant et que ces nouveaux mix m'ont fait entendre énormément de choses que je n'avais jamais entendues avant ! Coté clips, j'avoue avoir du mal avec certains, en plus de ne pas être super fan du genre. Ça part très souvent dans des délires un peu étranges et je me demande souvent où est le rapport avec la chanson. Bref, ça manque un poil de cohérence. Verdict final : à réserver aux super fans, pour les autres, concernant Peter, le meilleur choix reste toujours Growing Up Live…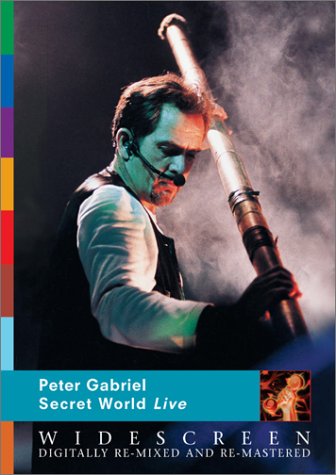 Peter Gabriel - Secret World Live - 2002
Come Talk to Me
Steam
Across the River
Slow Marimbas
Shaking the Tree
Blood of Eden
San Jacinto
Kiss That Frog
Washing of the Water
Solsbury Hill
Digging in the Dirt
Sledgehammer
Secret World
Don't Give Up
In Your Eyes
Une catastrophe. Vraiment si j'ai un conseil à vous donner : passez votre chemin. Je trouve ça tout bonnement pas regardable du tout. Ok l'image n'est pas terrible mais ça passe, ok le son est génial, ok le concert en lui même est fabuleux… Alors… Pourquoi ? Pourquoi est ce que je trouve ça si décevant, si catastrophique ? Tout simplement parce que Peter a refait en studio la bande son… Et il s'est foiré. À tel point que les lèvres ne bougent jamais en même temps que ce que l'on entend… On a l'impression de regarder des images et une musique qui n'a rien à voir avec ce que l'on a à l'écran… Bref… Préférez sans hésitations Growing Up Live…
(Remarque : le Blu-ray est bien meilleur et corrige un peu les problèmes de synchro son / image).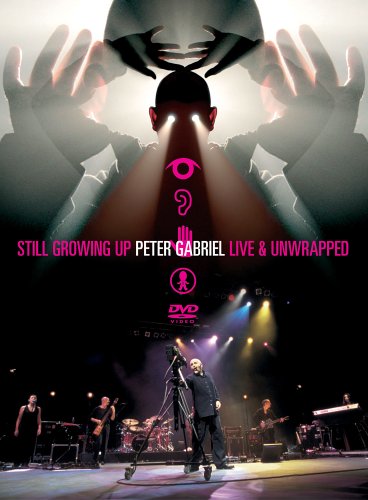 Peter Gabriel - Still Growing Up Live & Unwrapped - 2005
The Feeling Begins
Red Rain
Secret World
White Ashes
Games Without Frontiers
Burn You Up, Burn You Down
The Tower That Ate People
San Jacinto
Digging In The Dirt
Solsbury Hill
Sledgehammer
Come Talk To Me
Biko
In Your Eyes
– un documentaire de 83 minutes sur les coulisses de la tournée réalisé par Anna Gabriel et Hamish Hamilton (avec les morceaux : The Feeling Begins, Red Rain, Secret World, White Ashes, Burn You Up Burn You Down, San Jacinto, Digging In The Dirt, Solsbury Hill, Sledgehammer, The Tower That Ate People, Come Talk To Me et Biko).

– Le groupe et Peter en studio qui interprètent More Than This, Darkness, Sledgehammer, No Way Out et Growing Up.

– No Self Control extrait de la tournée mondiale This Way Up en 1988.

– Peter Gabriel interprétant Downside Up et Father, Son dans l'émission Later with Jools Holland de la BBC (avec Paul Buchannan et Liz Frazer pour Downside Up).
Pour les fans uniquement… Les autres prendront l'indispensable "Growing Up Live". Le premier DVD relève d'un parti pris artistique assez déconcertant. Au lieu de choisir une seule date comme cela se fait habituellement, ou au pire un morceau par date, le choix a été de faire un montage de toute les dates de la tournée qui ont été filmées. C'est à dire qu'à chaque plan différent, on voit un concert, une scène, un public différent. C'est assez déconcertant et cela ne donne évidemment pas l'impression de voir un concert, mais un reportage sur la tournée. D'un point de vue montage c'est un travail de titan réalisé de main de maître. D'un point de vue artistique, c'est beaucoup plus critiquable. Ceux qui aiment voir un concert ne seront pas satisfait, c'est évident. Les images collent toujours parfaitement à la bande son, alors qu'on est certain que ce qu'on entend ne va pas avec ce que l'on voit. Bref, c'est du super trafiqué. Mais quoi qu'il en soit, c'est un parti pris artistique pleinement assumé et qui plus est courageux, et il n'y a rien à y redire. Ensuite, on aime ou pas… Le deuxième DVD censé contenir un documentaire sur la tournée est en fait principalement composé de ces mêmes images de concert avec parfois Peter s'amusant avec un miroir, Peter disant une ou deux phrases, jamais sans grand rapport avec la musique ou la tournée… Bref, un truc clairement dispensable et dont l'intérêt ne m'apparaît absolument pas évident.
Notons quand même la présence de The Feeling Begins, White Ashes (le morceau de Ovo qui ici est transcendé par le chant et les paroles que Peter a depuis rajoutés), Games Without Frontiers, Burn You Up, Burn You Down, The Tower That Ate People, San Jacinto, Come Talk To Me et Biko qui n'étaient pas présents sur le DVD de "Growing Up Live". Autant de morceaux différents (même si le concert est beaucoup plus court) c'est un bel effort pour une "même tournée". Et cela justifie l'achat pour les fans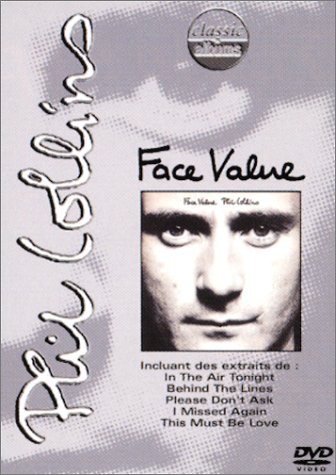 Phil Collins - Face Value - 2002
Documentaire retraçant l'histoire de l'écriture et de l'enregistrement du premier album solo de Phil
Passionnant. Surtout lorsqu'on est un peu musicien et que toutes les histoires de technique et de studio vous intéressent. Mais je vous rassure, il n'y a pas que ça dans ce dvd, loin de là. Il y a notamment une version extrêmement poignante de Please Don't Ask, par Phil tout seul au piano et on le voit submergé par l'émotion. Très fort moment. Autrement c'est un documentaire, constitué de témoignages, d'interviews etc.Notons quand même la présence de The Feeling Begins, White Ashes (le morceau de Ovo qui ici est transcendé par le chant et les paroles que Peter a depuis rajoutés), Games Without Frontiers, Burn You Up, Burn You Down, The Tower That Ate People, San Jacinto, Come Talk To Me et Biko qui n'étaient pas présents sur le DVD de "Growing Up Live". Autant de morceaux différents (même si le concert est beaucoup plus court) c'est un bel effort pour une "même tournée". Et cela justifie l'achat pour les fans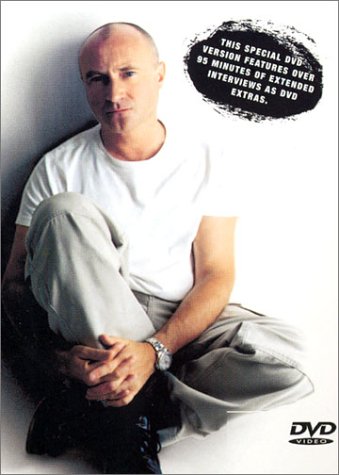 Phil Collins - A Life Less Ordinary - 2003
Documentaire sur la carrière solo de Phil et sa vie jusqu'à Testify
Pendant de Songbook pour Phil Collins. Indispensable à tout fan qui se respecte. Le DVD regorge en plus du documentaire principal d'une quantité incroyable d'interview et autre de l'entourage de Phil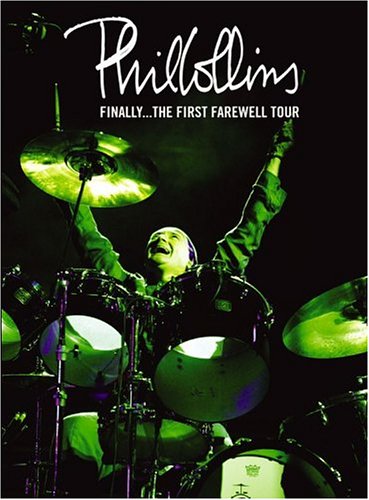 Phil Collins - Finaly First Farewell Tour - 2004
Drums, Drums & More Drums
Something Happened On The Way To Heaven
Against All Odds
Don't Lose My Number
You'll Be In My Heart
One More Night
Can't Stop Loving You
Hang In Long Enough
True Colors
Come With Me
A Groovy Kind Of Love
I Missed Again
Another Day In Paradise
No Way Out
Separate Lives
In The Air Tonight
Dance Into The Light
You Can't Hurry Love
Two Hearts
Wear My Hat
Easy Lover
Sussudio
It's Not Too Late
Take Me Home
Ok. Alors, on va faire simple : c'est pour moi, à ce jour (7 novembre 2004), le meilleur DVD qui soit issu du monde de Genesis. Son exceptionnel, performance géniale. Soucis du détail absolument partout, ne serait ce que dans le menu du DVD ou un petit dessin animé montre Phil, dessiné par lui même en train de faire le break de batterie de In The Air Tonight… Bref : c'est vraiment un objet magnifique et qui rempli à la perfection la prétention que Phil avait pour cet objet : être un DVD qui soit un aperçu de toute sa carrière solo. En effet, outre le concert, superbement réalisé et avec un son incroyablement bon (vraiment si vous n'y êtes pas encore, débrouillez vous pour obtenir un équipement qui puisse lire le 5.1, ça change vraiment tout), sont présents sur le DVD un documentaire sur la tournée, plusieurs bêtises dont une hilarante avec Phil jouant un inspecteur de police, un morceau joué avec le Big Band, les clips de toutes les chansons, du multi angle sur certains morceaux, Against All Odds au live Aid et la toute première performance live de In The Air Tonight etc… vraiment parfait.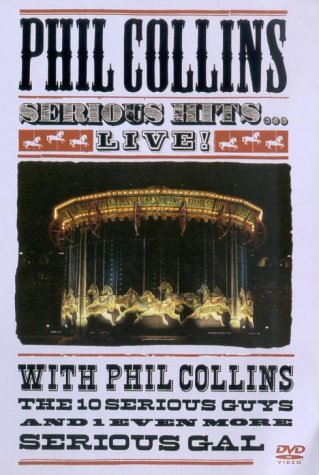 Phil Collins - Serious Hits Live - 2003
Hand in Hand
Hang in Long Enough
Against All Odds
Don't Lose my Number
Inside Out
Do You Remember
Who Said I Would
Another Day In Paradise
Separate Lives
Saturday Night and Sunday Morning
The West Side
That's Just The Way It Is
Something Happened On The Way To Heaven
Doesn't Anybody Stay Together Anymore
One More Night
Colours
In The Air Tonight
You Can't Hurry Love
Two Hearts
Sussudio
A Groovy Kind of Love
Easy Lover
Always
Take Me Home
Là aussi c'est un concert exceptionnel. Il n'y a rien à dire. Tout y est. Niveau du DVD en lui même c'est une réussite au niveau du son et du remix 5,1, mais aussi au niveau des différents angles de caméra disponibles tout au long du concert.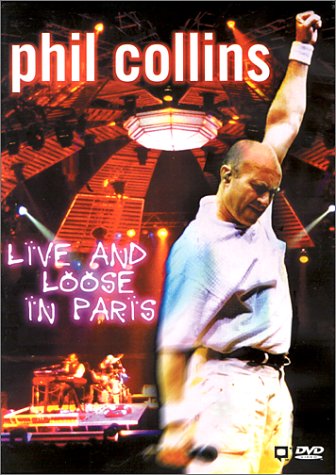 Phil Collins - Live And Loose In Paris - 2000
Hand in hand
Hang in long enough
Don't lose my number
Another day in paradise
Against all odds (Take a look at me now)
Lorenzo
Separate lives
Long long way to go
In the air tonight
Timbantiocha
Easy lover
Dance into the light
Wear my hat
Something happened on the way to heaven
Sussudio
Décevant. Pourquoi ? Parce que ce n'est pas un concert complet et parce que ce sont pour 80% des titres présents sur tous les best of et vidéos de Phil. On se console avec les morceaux de Dance Into The Light qui sonnent super bien et par une performance irréprochable, mais on reste sur sa faim. C'était la première tournée de Phil après avoir quitté Genesis et le voir faire le pas de I Can't Dance dans "Dance Into The Light" me pince le coeur à chaque fois…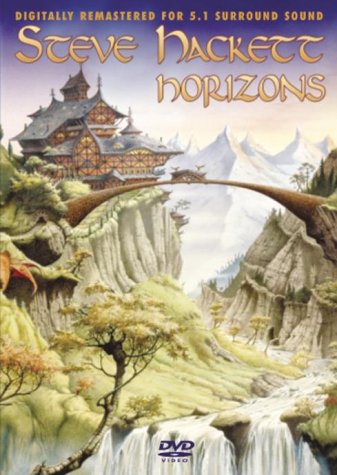 Camino Royale
Please Don't Touch
Everyday
In That Quiet Earth
Depth Charge
In The Heart Of The City
Black Light
Horizons
Theatre Of Sleep
Jazz Jam
Clocks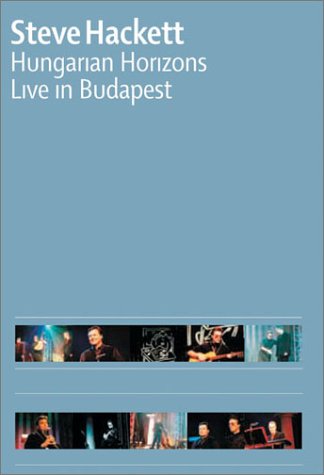 Steve Hackett - Hungarian Horizons - 2003
Horizons
Gnossienne #1
Bourée / Bacchus
Firth of Fifth
Bay Of Kings
Syrinx
Imagining
Second Chance
Jacuzzi
Overnight Sleeper
The Barren Land
Black Light
Kim
Time Lapse at Milton Keynes
The Chinese Jam
Concerto in D
Hairless Heart
Cinema Paradiso
Mustard Seed
Gymnopedie #1
Jazz On A Summer's Night
Little Cloud
Cavalcanti
Walking Away From Rainbows
Andante In C
Concert for Munich
The Journey
Skye Boat Song
By Paved Fountain
Etude in A min
Blood On The Rooftops
Hands of the Priestess
C min Triplets
End of Day
Ace Of Wands
Idyll
Aubade
Meditation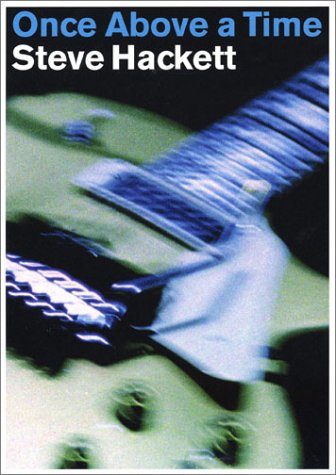 Steve Hackett - Once Above A Time - 2004
Valley Of The Kings
Mechanical Bride
The Circus Of Becoming
Frozen Statues
Slogans
Serpentine Song
Ace Of Wands
Hammer In The Sand
Blood On The Rooftops
Fly On A Windshield
Please Don't Touch
Firth Of Fifth
If You Can't Find Heaven
Darktown
Brand New
Air-Conditioned Nightmare
Every Day
Clocks
Spectral Mornings
Los Endos
J'ai beaucoup aimé ce DVD. Image et son nickel, mais j'ai trouvé vraiment qu'il faisait doublon avec Somewhere in South America. J'aurais donc exactement le même commentaire que pour ce dernier… Mention spéciale à Blood on the rooftops : le morceau a été joué en entier pour la première fois sur cette tournée. Le chanteur (également batteur), sans être Philou et semblant un poil stressé s'en sort pas mal… Avant cette tournée, Steve se contentait de jouer l'intro de guitare, et Genesis n'a jamais joué ce morceau en concert… Pour le reste, se reporter à mon commentaire sur SiSA, c'est exactement le même, pour les même raisons…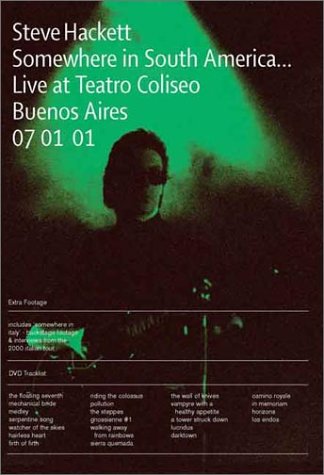 Steve Hackett - Somewhere In South America - 2003
The Floating Seventh
Mechanical Bride
Medley
Serpentine Song
Watcher Of The Skies
Hairless Heart
Firth Of Firth
Riding The Colossus
Pollution
The Steppes
Gnossienne #1
Walking Away From Rainbows
Sierra Quemada
The Wall Of Knives
Vampyre With A Healthy Appetite
A Tower Struck Down
Lucridus
Darktown
Camino Royale
Intros
In Memoriam
Horizons
Los Endos
Je suis loin d'être un spécialiste de la carrière de Steve, mais j'avoue que j'ai trouvé ce DVD très agréable à regarder. Même en ne connaissant qu'une chanson sur deux. Je pense que pour tout fan qui se respecte ça doit être une obligation d'avoir ce dvd au vu de la qualité de celui ci (sans juger de la qualité artistique, je ne connais pas assez pour dire, mais c'est impeccablement bien joué et les musiciens qui accompagnent Steve sont à la hauteur).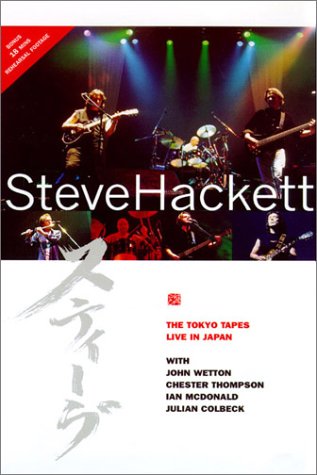 Steve Hackett - The Tokyo Tapes - 2001
Watcher Of The Skies
Riding The Colossus
Firth Of Fifth
Battlelines
Camino Royale
The Court Of The Crimson King
Horizons
Walking Away From Rainbows
Heat Of The Moment
In That Quiet Earth
Vampyre With A Healthy Appetite
I Talk To The Wind
Shadow Of The Hierophant
Los Endos
Black Light
The Steppes
I Know What I Like