Ah ! The Lamb Lies Down On Broadway… Le Mythe… Un Disque exceptionnel, mais terriblement dur d'accès, ce n'est définitivement pas un bon choix pour quelqu'un qui débute dans Genesis, mais qu'est ce que c'est bon. Pourquoi ? Je ne sais pas, peut être parce que c'est le seul double album de Genesis ? Peut-être aussi parce que c'est le seul concept de Genesis… Quoi qu'il en soit, une fois qu'on arrive à se plonger dans l'univers de Rael, et qu'on commence un peu à comprendre ce que raconte l'histoire (sans même essayer de parler d'interprétation) on n'arrive plus à en décrocher. Une histoire magnifique, mais décidément trop complexe pour être expliquée voire même racontée en quelques lignes. Des pages entières y suffiraient-elles d'ailleurs ?

Vous l'aurez donc compris, aussi bien lyriquement (Peter Gabriel a écrit seul la quasi-totalité de l'histoire) que musicalement, The Lamb marque une étape essentielle de l'histoire de Genesis, Quelque chose à part, mais tellement grand. Une musique comme jamais ils n'en avaient écrit et comme ils n'en écriront jamais plus.

Enfin, plutôt que de vous boursoufler le cortex avec ça, que vous ne l'ayez jamais entendu (et alors je vous conseille d'y prêter un jour une oreille) ou que vous le connaissiez par cœur, (alors, je ne peux que vous conseiller de le réécouter), je préfère vous dire qu'écouter The Lamb est une véritable épopée, quelque chose qui se vit et dont on ne ressort pas pareil, et chaque écoute est nouvelle.

Mesurez lorsque retentit la dernière note de It le chemin parcouru depuis la première note de The Lamb Lies Down On Broadway pour en prendre conscience.

Dernière note, pour signaler juste la présence de deux des plus belles chansons de Genesis à mon goût : The Carpet Crawlers et The Lamia.

Voilà pour The Lamb, on laisse en chemin Peter Gabriel aller à sa carrière solo, certains fans se détourneront à jamais du Groupe, tant pis pour eux…Comme on dit, le roi est mort, Vive le Roi, Ici commence le second chapitre de l'histoire de Genesis…
Attention ! Ces traductions ne sont pas des traductions officielles. Elles ont été faites par des fans, et contiennent sans aucun doute des erreurs et des sens faussés. N'hésitez pas à nous le signaler si vous en trouvez. Par ailleurs, les traductions ont été faites sur le principe d'être le plus fidèle possible au texte d'origine, c'est pourquoi le parti pris a été d'utiliser au maximum une traduction de type "mot à mot" afin de pouvoir facilement faire le parallèle avec le texte anglais, ce que n'aurait pas permis une traduction plus littéraire et plus globale. Ces traductions proviennent du site EOAIAO www.genesis-fr.com – Elles sont le fruit de nombreuses heures de travail. Merci de les respecter et de ne pas les reproduire sur vos sites.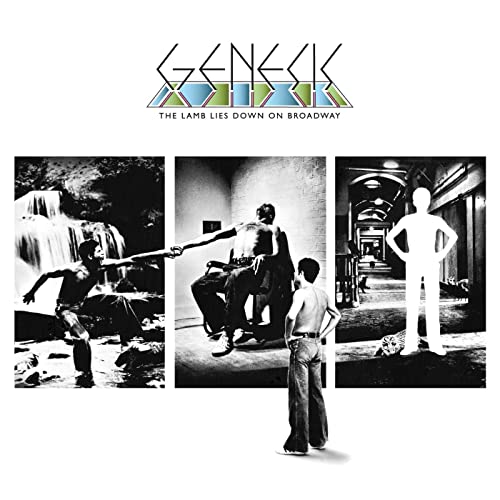 Michael Rutherford: Basse et Guitare 12 Cordes
Phil Collins: Percussion, Ambiance et Chant.
Steve Hackett: Guitares.
Tony Banks: Claviers.
Peter Gabriel: Chant et Flûte.
Avec des variations et des expérimentations avec des sonorités étrangères

Enossification : Eno courtesy of Island Records.
Enregistré à Glossplant, Pays de Galles avec le Island Mobile Studio et mixé au Island Studios d'Août à Octobre 1974

Production : John Burns and Genesis.
Ingénieur du son : David Hutchins.

Sorti en Novembre 1974

Singles:
Novembre 74 – Counting out time/Riding the scree (UK)
Décembre 74 – Counting out time/The lamb lies down on Broadway (USA)
Avril 75 – Carpet crawlers/The Evil Jam (live)