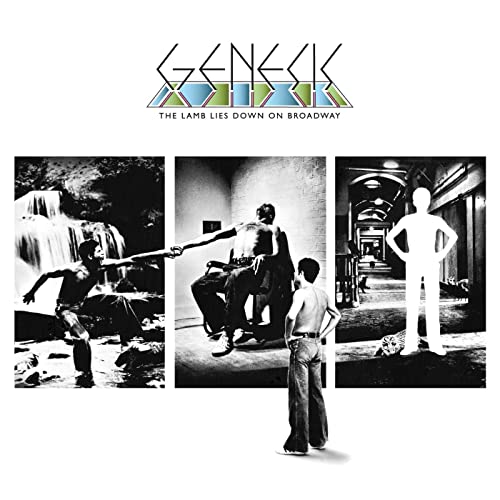 Pour commencer, l'idéal c'est quand même de bien suivre la musique avec le livret de paroles sous les yeux… J'explique dans la suite assez succinctement ce qui se passe dans chaque chanson. L'histoire forme un tout… Ce n'est pas une interprétation que je donne, mais juste l'explication des faits, ce qui se passe dans l'histoire. Libre à chacun ensuite d'aller voir plus profondément ensuite avec le texte, et la traduction… Histoire de regagner en poésie ce que j'explique un peu froidement…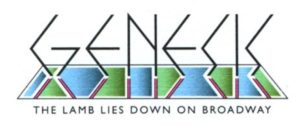 The Lamb Lies Down On Broadway
Ca pose le décors et le personnage de Rael : porto ricain qui a un peu mal tourné et qui a passé plusieurs années de sa vie dans un gang… La chanson décrit broadway et Rael qui se ballade dans les rues de Broadway…
Fly On A Windshield
Rael voit se former dans la rue un immense mur que personne d'autre n'a remarqué. De la poussière s'agglutine sur sa peau, formant une croûte qui l'empêche de bouger… Il essaye d'échapper au mur, qui descend toujours vers lui, engloutissant tout Manhattan sur son passage… finalement Rael n'arrive pas à y échapper et le mur le percute de plein fouet.
Broadway Melody Of 1974
Cette chanson là est la perception que Rael a de Broadway pendant la milliseconde ou il est touché par le mur… Elle n'a rien à voir avec l'histoire en elle même, elle décrit juste Broadway et son folklore…
Cuckoo Cocoon
Rael se réveille après avoir été frappé par le mur… Il ne sait pas ou il est, il ne sait pas si il est vivant ou pas… il se pose des questions sur sa condition, et c'est ce qui est dit dans la chanson.
In The Cage
Rael vient donc juste de se réveiller. Il est dans une sorte de grotte. Il a envie de vomir… Il ne sait toujours pas ou il est et ce qu'il fait là… Les stalactites et les stalagmites de la grotte se resserrent autour de lui formant une prison de laquelle il ne peut sortir… En dehors de la cage de pierre il voit son frère John. Il l'appelle au secours, mais John ne vient pas l'aider… La cage se resserre toujours plus. Au moment ou il ne va plus pouvoir respirer tellement il est opprimé, la cage disparaît.
The Grand Parade of Lifeless Packaging
Rael se retrouve alors devant l'entrée d'un supermarché spécial. Ce supermarché vend des personnes. Ces personnes sont inanimées, comme sans vie. Rael retrouve dans les rayons certains membres de son gang dont son frère John qui à le numéro 9. Comprenant qu'il est potentiellement en danger dans cet endroit et qu'il pourrait lui aussi finir comme son frère, il s'enfuit…
Back In NYC
Avoir revu ses anciens compagnon ravive en lui de vieux souvenirs. La chanson parle de l'époque ou Rael était dans le gang et ou il fracassait un peu tout se qu'il trouvait… Rael parle aussi de ses états d'âmes et de son manque "d'amour" dans le refrain…
Hairless Heart
Bien qu'il n'y ait pas de paroles, on image le désarroi de Rael face à un manque "d'amour" qui l'a conduit la ou il en est…
Counting Out Time
C'est première expérience charnelle de Rael. Il a acheté un bouquin expliquant que faire face à une jeune fille dévêtue et consentante et l'a étudié pendant des mois. Le jour fatidique il se vautre complètement laissant sa partenaire complètement frustrée et irritée… (dans la présentation de la chanson en concert Peter Gabriel raconte que Rael n'a tenu que 78 secondes !)
The Carpet Crawlers
Rael reprend ses esprits… il a certainement erré pendant un bon moment… Il se retrouve dans un long couloir avec un tapis rouge. Au bout du couloir une immense porte en bois et sur le tapis des centaines de personnes agenouillées, avançant au ralenti vers la porte. Ils n'ont qu'une seule idée en tête, passer la porte. Rael peut bouger comme il veut et sans se poser la question de savoir pourquoi il est libre de ses mouvements, il fonce donc vers la porte et la franchit. Derrière la porte se trouve un immense escalier en colimaçon… Rael le grimpe.
The Chamber of 32 Doors
En haut de l'escalier se trouve une grande pièce avec 32 portes. La pièce est remplie de personnes. Rael comprend très vite qu'une seule des portes peut le conduire vers l'extérieur. Mais personne ne sait laquelle. Il retrouve plein de figures familières dans cette pièce, comme son père et sa mère. Plein de personnes élaborent des théories sur la façon de quitter la pièce, mais personne n'y arrive…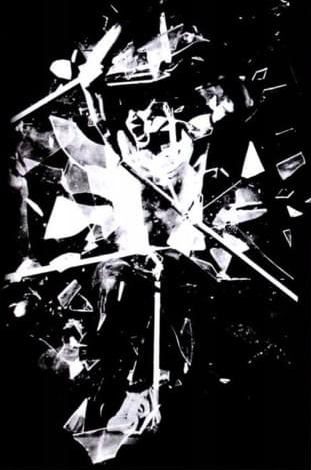 Lilywhite Lilith
Au milieu de la foule, Rael rencontre une personne aveugle qui lui demande de l'aider à trouver son chemin à travers la foule. Rael accepte et en échange elle le guide hors de la chambre des 32 portes. Elle conduit dans une grotte et lui dit d'attendre patiemment, qu'"ils" ne vont pas tarder à arriver…
The Waiting Room
Rael attend donc, et perd patience… deux globes de verre tournent autour de lui, il les brise. La grotte s'écroule sur lui…
Anyway
Rael est donc en train de suffoquer sous les décombres et se pose des questions sur sa vie, sa mort… tout à coup une sonnerie retenti…
Here Comes The Supernatural Anaesthetist
The Supernatural Anaesthetist, c'est en fait la mort d'un point de vue mythologique : le personnage de la mort : la faucheuse… Rael avait rendez vous avec elle, mais quand elle arrive elle se détourne et s'en va.
The Lamia
Rael, toujours vivant donc, décide donc que la mort était une illusion et sent une odeur dans l'air… Il la suit et arrive à sortir des décombres de la grotte. Il se retrouve dans une pièce majestueuse avec une piscine. Des créatures, mi femmes / mi serpent sont là et font l'amour à Rael. En même temps elles commencent à le dévorer. Lorsque la première goutte de sang arrive sur les lèvres des Lamia, celle ci meurent instantanément… Rael se retrouve seul et mange les restes des Lamia.
Silent Sorrow in Empty Boats
On imagine dans cette chanson Rael, seul, errant après l'épisode des Lamia.
The Colony of Slippermen
Rael arrive dans un lieu dans lequel il retrouve plein de personnes complètement difformes. Ils lui apprennent que comme lui ils ont goutté à l'amour des Lamia qui renaissent en fait après chaque conquêtes… Rael est donc difforme lui aussi, même s'il ne veut pas y croire. Son frère John l'est aussi. Il n'y a qu'une seule solution pour retrouver une apparence normale : une visite chez le Docteur Dyper qui est spécialiste de la castration. Rael et John décident d'y aller. Le docteur fait son travail et rend les organes en question à chacun des frères dans un tube que les autres ex-Slippermen ont l'habitude de porter autour du cou… A ce moment là, un immense corbeau plonge sur Rael et se saisit du tube… Rael poursuit l'oiseau jusque sur une falaise, un ravin… L'oiseau laisse tomber le tube. John a une fois de plus abandonné Rael et n'a pas voulu le suivre pour l'aider a récupérer son tube… Rael n'a plus qu'à contempler du haut de sa falaise son tube qui flotte dans le torrent qui passe au fond du ravin…
Ravine
On image Rael contemplant son tube du haut de la falaise…
The Light Dies Down On Broadway
Alors que Rael est sur sa falaise, il voit une fenêtre ouverte dans le ciel. Dans cette fenêtre il voit son Broadway et la vie qu'il menait avant… Au moment ou il va traverser la fenêtre, il entend son frère John qui se noie dans le torrent plus bas… Rael est donc confronté à un dilemme : sauver son frère qui l'a si souvent laissé tomber ou sortir de se cauchemar en traversant la fenêtre… il n'a pas beaucoup de temps pour décider vu que la fenêtre commence à disparaître… mais son choix est fait : il sauvera son frère.
Riding the Scree
Rael déboule sur un éboulis pour descendre de la falaise et rejoindre la rivière pour sauver son frère.
In The Rapids
Rael a sauté à l'eau et nage pour sauver son frère… il arrive à l'attraper et à le ramener sur la berge… Au moment ou il le retourne pour le mettre sur le dos, Rael se rend compte que le visage de John a changé et que c'est en fait son propre visage que Rael est en train de regarder !!!! (Le visage de John est donc devenu celui de Rael)…
it
La conscience de Rael passe très rapidement d'un visage à l'autre jusqu'à ce qu'elle n'appartienne plus à aucun des deux corps et qu'elle contemple la scène "à la troisième personne" au dessus des deux corps… Tout d'un coup les deux corps partent en fumée… L'histoire s'arrête là et la chanson It n'a pas grand chose à voir avec l'histoire en elle même… Peter Gabriel conclu par "it's up to you"… c'est à dire : à chacun la liberté d'interpréter comme il le souhaite.